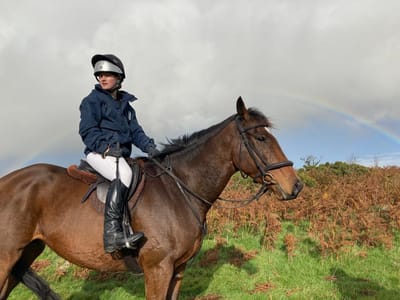 I'm Annie Jones and I'm a passionate up and coming artist in South Devon. I paint in professional quality acrylic paints to create a custom, long lasting piece of art that immortalises your pet forever.
I paint in a realistic Fine Art style, capturing your pet's essence, character and unique appearance. I work with you from beginning to end, from choosing the best possible photo to making sure I fully capture the fine details that make your pet, your pet.
I specialise in horses as I enjoy having them myself and love painting their features like their deep, expressive eyes however all other furry friends are welcome whether that's your bossy cat, loving dog, cow or sheep. As well as these, I am working on an original longhorn and Highland cow series- some of which are currently available.
All commission portraits come beautifully presented so are a perfect, personal gift for family or friend or just as a treat for yourself.
I am happy to offer advice on photos and what size portrait would best suit your pet.
Please take a look at my gallery showing previous commissions including horse, dog and cats plus original acrylic or oil paintings available for sale.
Please just get in touch either on my website above or Facebook @anniesequinepaintings
I will get back to you as soon as I can. Many thanks and I look forward to hearing from you! Annie