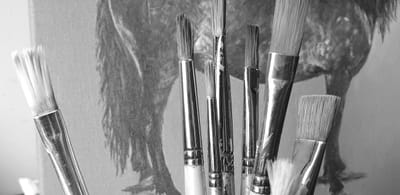 Standard Conditions
Please read these Conditions carefully and print or save them and retain a copy for your reference, they govern the terms between us.
Definitions
Where defined terms are used in this Agreement, they are distinguished by an initial capital letter. The following definitions apply to all documents comprising this Agreement.
Agreement means these Conditions together with our correspondence detailing my acceptance of your offer to buy a portrait or artwork from me.
Me or Artist or I means Annie Jones, the artist, based in Devon, UK
You or Client means you the customer or purchaser of the work
Artwork or Painting or Portrait or Goods means the artwork or painting or portrait I am selling you or providing you under your commission to me
Fee means the fee I have agreed to accept from you in return for my Artwork or Painting
Words denoting natural persons are interchangeable e.g. he/she and include corporations and firms or vice-versa
About Me
I am Annie Jones, based in Devon in the UK and this website is owned and operated by me. If you need to contact me, please e­mail me at
anniespaintings234@gmail.com
or contact me via Facebook @anniesequinepaintings
Making a contract with Me
When you place an order with Me, you are making an offer to buy goods and services (a painting or other artwork). I will send you an e­mail or social media message to confirm that I have received your order. Once I have checked the price and availability of the goods, I will message You again to confirm that I accept your order and that a contract has been made between Me and You, upon which you will need to pay a 10% deposit with the balance payable within 7 days of completion and prior to despatch. I will not take payment from you until I have accepted your order. In the unlikely event that the goods are no longer available or I am unable to fulfil your order, or that I have made a pricing mistake, I will advise you of this in which case you will not receive a message confirming acceptance of your order and there will be no contract between us.
How to place order and Delivery
To commission a portrait or artwork, use the contact details described on my website or Facebook page and either message me or complete the website form. In doing so you are agreeing in full to these Conditions. At the time of your ordering we will agree an approximate timeframe for completion of the work.
Charges for delivery of original artwork and commissioned artwork vary and will be discussed at the time of your commission. All items are sent by tracked delivery for in the UK, or Parcel Force for International delivery. Completion of commissioned artwork varies but typical times for unframed art are 2-5 weeks from acceptance of your order and receipt of suitable reference images and deposit money. Framed items usually take approximately 7-10 additional days. If artwork is lost or damaged in transit, please let us know promptly. Please do not send me hard copy original photos as I cannot guarantee their safekeeping or safe return; copies or electronic copies are preferred.
Cancellation, Termination and Returns
After I have accepted your order, if You wish to cancel you must give me notice by email or Facebook message using the above address. From when I have received your written cancellation, the following cancellation or returns policies apply:
If a Client has paid a deposit on a commission but has not provided photographs or agreed details for the portrait to begin, I will hold the agreed artwork price for a further 6 months until you provide the information needed for a portrait to begin. If you do not provide the information, the deposit is non-refundable but I will not seek further payment from you.
If a Client has paid a deposit and work has begun, including initial grounding of canvass, sketches or any other draft artwork, the deposit is non-refundable and the Client will need to pay a further reasonable portion of what would have been the overall fee in proportion to the work undertaken; for example if I deem the artwork is 25%, 50% or 75% complete, I will be entitled to seek further payment of that respective proportion of the overall fee.
Once I deem a portrait complete, I will send a photograph of the artwork for the Client to confirm that they are happy with finished image and are happy to have the portrait either framed or despatched for delivery and the remainder of the fee is due in full, plus the cost of framing (if chosen) and the cost of delivery; cleared payment in full to be received prior to artwork being despatched.
Once the Client has received the artwork, I am afraid I am not able to offer refunds. However, in the very unlikely situation that you are not satisfied with it please contact me immediately and I will try and discuss options of resolving the issue in a reasonably way.
If for whatever reason (including force majure) I am unable to complete your commissioned portrait or artwork within a reasonable time and to a standard I deem reasonable, I will notify you of the fact and will return in full any monies you have paid in respect of the artwork and this will be the limit of my liability.
Damage in Transit
I very carefully package all my artwork and only send by tracked delivery. If a portrait arrives damaged, please take and send photos of the damaged packaging and damaged artwork to me immediately. We will then discuss options. If I believe the portrait is salvageable, you must return it to me (suitably wrapped and packaged and via tracked delivery) for inspection or repair. If I believe I cannot repair the damage on the original artwork, I will produce a new similar portrait for the Client at no additional cost though the Client will need to cover the cost of return, delivery and, if required, re-framing.
IPR and Copyright including Artwork Displayed on this Website or social media
I retain copyright of all artwork I produce and generally assert the Artist's moral rights to be identified as the author of the work and as such reserve the right to use my paintings and drawings for promotional material and display unless agreed with you in writing in advance and prior to the order being accepted.
No part of my paintings or artwork may be registered under the Registered Design Regulations 2001 (as amended) without my consent in writing. However, I will not reproduce Client commissioned artwork for re-sale or use the images on products or merchandise for sale without the Clients agreement.
Where you have provided me either electronically or in hard-copy with material whether photographs or drawings or other media which may be the subject of copyright (e.g. someone else's photograph of a horse) you will indemnify me for any subsequent loss or claim or damages of any kind in relation to the use of such material and this shall include immediate re-imbursement to me in full of any loss or expense or damages (including any punitive damages) or costs or legal costs incurred whatsoever.
Liability
No action or proceedings arising out of or in connections with this Agreement whether in contract, in tort or otherwise shall be commenced after the expiry of one month from the date of completion of the artwork and the Artist's maximum aggregate liability under this Agreement shall not exceed the amount of the Artists fee which had been paid by the Client to the Artist.
Privacy
The Artist respects your privacy and is committed to protecting your personal data (if any) held by me.
Complaints
Should you have any complaints with the service I provide to you, I will endeavour to handle your complaint promptly and courteously. In the first instance, please contact me using the details above and we will attempt to settle the complaint by negotiation or mediation.
Changes to these terms
These terms were last changed on 7 August 2021 and apply to your order. I may change these Standard Conditions at any time and without notice, so if ordering repeat work from me please ensure you check the up to date Conditions applicable at the time of sale.
Applicable Law and Jurisdiction
This Agreement is subject to the law of England and Wales and the parties submit to the exclusive jurisdiction of the English Courts.